Our popular Three Leaflet Deal is back for its seventh year. It's your chance to get three full colour election leaflets at a great price.
What do you get?
Three high quality printed leaflets at bulk buy prices so you can afford them in election expenses. ALDC provide the templates and our colleagues at Election Workshop provide the printing.
How much will I need to spend?
It should mean that where you have 12,000 or fewer doors the cost of the colour leaflets take up less than 40% of your election expenses in a single candidate ward, some times much less. This leaves at least 60% for other campaigning.
You can see our price lists at the bottom of this page.
The first of the three leaflets is intended to be delivered before election expenses, so you don't have to include the cost in your expenses return. The second leaflet (A3) when postal votes land, and the third (A4) for the final weekend.
(1) The flying start is 489 x 230mm flat, folded in thirds to 163 x 230mm portrait.
(2) A3 Z folded in thirds.
(3) A4 folded in half.
If you prefer an A3 to replace (1) we can substitute it for no extra cost.
All of our Three Leaflet Deal material is high quality leaflet paper. 130gsm coated paper, not cheaper lightweight leaflet paper.
Book the deal by 6th March 2022. More details at the bottom of the page. Copy and photos OR completed artwork by the deadline.
1. FLYING START leaflet
For the first leaflet we're offering two deadlines to give you flexibility in your campaign plan.
Early bird deadline 10am Tuesday 1st March for return by Tuesday 15th March.
OR Standard deadline 10am Sunday 6th March for return by Thursday 17th March.
2. A3 leaflet
Deadline for artwork 10am Sunday 27th March.   For delivery to you by Thursday 7th April.
3. A4 leaflet
Early bird deadline for artwork 10am Sunday 10th April.  Delivered by Thursday 21st April.
OR Standard deadline 10am Sunday 20th April for return by Thursday 28th April.
How to I sign up?
You can book by:
(1) emailing your list of wards and print runs to enquiries@electionworkshop.co.uk and we will invoice you; Please include the name, address, email and phone number of the person we are invoicing AND the same four bits of information for the person we are delivering to.
(2) ordering online through ALDC Artworker (whether you use Artworker to create the design OR just upload your own PDFs there) and you will be able to pay online with a card.
Templates
We have PDF, Affinity designer and ALDC Artworker templates for each of the leaflets in regional versions.
Leaflet One – Flying Start
England – Affinity File – PDF
Scotland – Affinity File – PDF
Welsh bilingual  – Affinity File – PDF
Welsh monolingual  – Affinity File – PDF
All versions –  ALDC Artworker
Leaflet Two – Map A3
Welsh (monolingual)  – Affinity – PDF
Welsh (bilingual) – Affinity – PDF
All versions – ALDC Artworker
Leaflet Three – Endorsement A4
Welsh monolingual  – Affinity – PDF
Welsh (bilingual) – Affinity – PDF
Three Leaflet Deal prices for 2022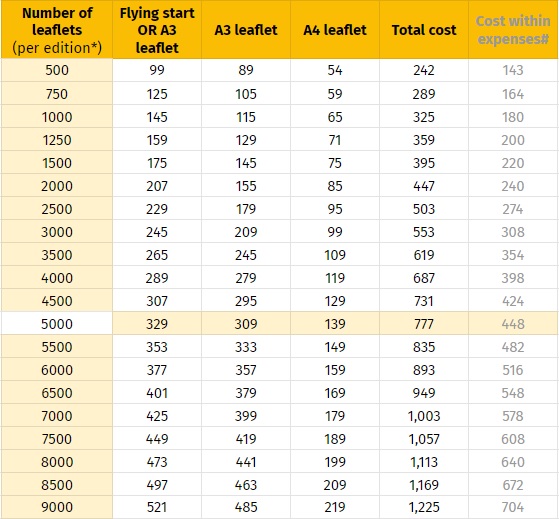 * Edition: The prices are based on the artwork not changing through the run. If you want to do different editions (i.e. changing the artwork for different areas) then you need to purchase a different run for each edition. For example, if your ward of 5000 homes has two areas you want to send different leaflet content to, then you need to pick two runs that total 5000 such as 2000 and 3000 and total the costs together.
* Cost within expenses: If you deliver the first of the three leaflets before election expenses as intended then the remaining two should cost less than 40% of your election expenses for all wards below 12,500 doors. This means you should have more than 60% (and in smaller wards well over that) left of your expenses limit. Please check your election expense limit yourself to confirm.